STATE OF THE ART GARDEN ROOMS
Featured at Kevin McClouds' Grand Designs Live Zenpod Offer Low/No Maintenance Environmentally Friendly Cost Effective Comfortable Contemporary & Traditional Garden Rooms From Only £17,000 "Turn Key"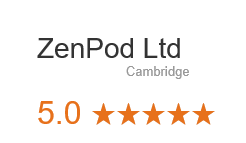 AFFORDABLE BESPOKE DESIGN TO SUIT YOU & YOUR BUDGET
All Zenpods are built to suit your design needs and to your budget.
Zenpods are residential quality buildings that are built around your lifestyle, each one is unique and built to last a lifetime.
A normal build will take 2 to 4 weeks depending on size. 
We use enviromentally friendly, state of the art, construction materials such as our beautiful, 100% recycled, no maintenance, rot free cladding where possible. 
Our preferred foundations are ground screws designed to hold up 90 tonnes… A typical Zenpod only weighs 3 to 5 tonnes so they are very, very strong!
We never "sell" you a Zenpod and we always try to beat our competitors on price with a far superior building than they will quote you for…
Contact us today FREE on 0800 1933 736 and ask us to do you a friendly, no obligation design and quote.
I'm interested in having my very own state of the art Zenpod
Phone Us Free
+44 (0)800 1933 736
Areas Covered
Bedfordshire, Cambridgeshire, Gloucestershire, Herefordshire, Hertfordshire, Northants, Oxfordshire, Suffolk, Surrey, Sussex and Yorkshire
Please do enquire even if you are outside of those areas